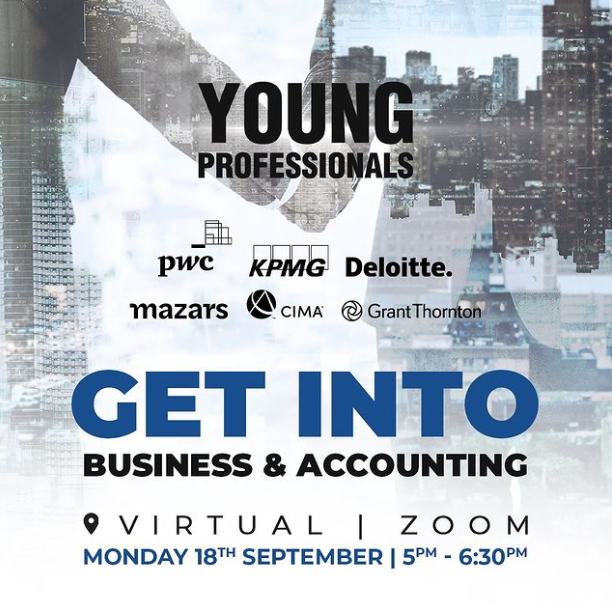 Key Takeaways From Our Get Into Business & Accounting Virtual Event
Publish Date: 2023-09-22
To start our September Kick Off events, we hosted a Get Into Business & Accounting Virtual Event, we had notable guest speakers from 3 out of the Big 4 accounting firms and were also joined by the outstanding Grant Thorton & CIMA. For those who missed the event or would like a bite size recap from the event, here we have collated the key takeaways from such an insightful event.
PwC Guest Speaker
Accounting is the process of recording and sorting transactions in a business, for example preparing financial statements. Auditing is making sure that everything management said in their financial statements is being reflected correctly.

Why accounting & auditing? Because of the structured learning plan, a globally recognised qualification provided the opportunity to travel because the foundations and principles are the same. Furthermore you work with diverse and inclusive teams.

Advice in your careers is to seek out a mentor and ask yourself how you see yourself making a difference to the profession.

Different routes to becoming an account e.g flying start route

PwC puts forward a team first and a challenge and is open to challenge mentality .
Mazars Guest Speaker
A big advocate for taking ownership of your career, getting involved, believing in yourself and putting your ideas into action.

Recruitment process initially starts with an online application, next an online assessment, following is a telephone interview and finally an Assessment centre.

Jack - an apprentice with Mazars offered some advice for applying - before the interview really understand the business line you are joining so in the interview you can ask questions and show the interviewer you know
Panellist Discussion Key Points
Claire from KPMG discussed the 3 key things which she believed enabled her to become a partner at KPMG:

1. Her ability to continue to learn at all points in her career.

2. Claire took the opportunities she was presented in her career.

3. The importance of the people she worked around.

A prominent topic discussed by CIMA was the importance of qualifications because they enable you to travel all across the globe, even if you don't stay within the company, having qualifications opens many doors.

Gail from Grant Thorton further emphasised the importance of a flexible qualification as she spent 6 years working across Hong Kong, China and some work in New Zealand.

A key takeaway from a recruitment perspective is that at assessment centres it's not about being the bossiest or the loudest in the room, it's more about the skills you can offer.

Top Tips for Students are don't let any opportunities go to waste, always ask questions and advice from others, be open minded and be willing to get stuck in and work and grow with the team.
Deloitte Guest Speaker Key Points
Kevin is a partner at Deloitte in their Edinburgh office and he discussed the reasons why he joined and they were: He had a vague idea that he wanted to work in business, specifically a big 4 because of the qualification and the opportunity it presented. Additionally the people he met were motivated, driven and they became his friends for life. Finally the development opportunities and the opportunity to manage his own career was something he held to much importance.

Top experiences working at Deloitte was the ability to travel, Kevin went on a safari in Africa and was able to visit the Taj Mahal, additionally it was an interesting experience of auditing at RBS through the financial crisis.

Societal impacts and making an impact that matters from integrity in financial systems to sustainability are a huge motivator when working at Deloitte.
Apprenticeship Panel Discussion
Many of the apprentices chose the apprenticeship route because of the earning whilst you learn aspect and if they knew the path they wanted to do, why would they go through the university route when they can have qualifications paid for.

Top Tips for school leavers when applying:

Be yourself in the interview, be authentic, it shines when you are passionate and personal.

Make sure you know what an audit is and explain why you want to be an auditor.

Don't underestimate yourself, they are not looking for experience but potential.

Take your time with each application process, research. Go on the firms website and research their careers page, have a want to work with them, sell yourself and be authentic.