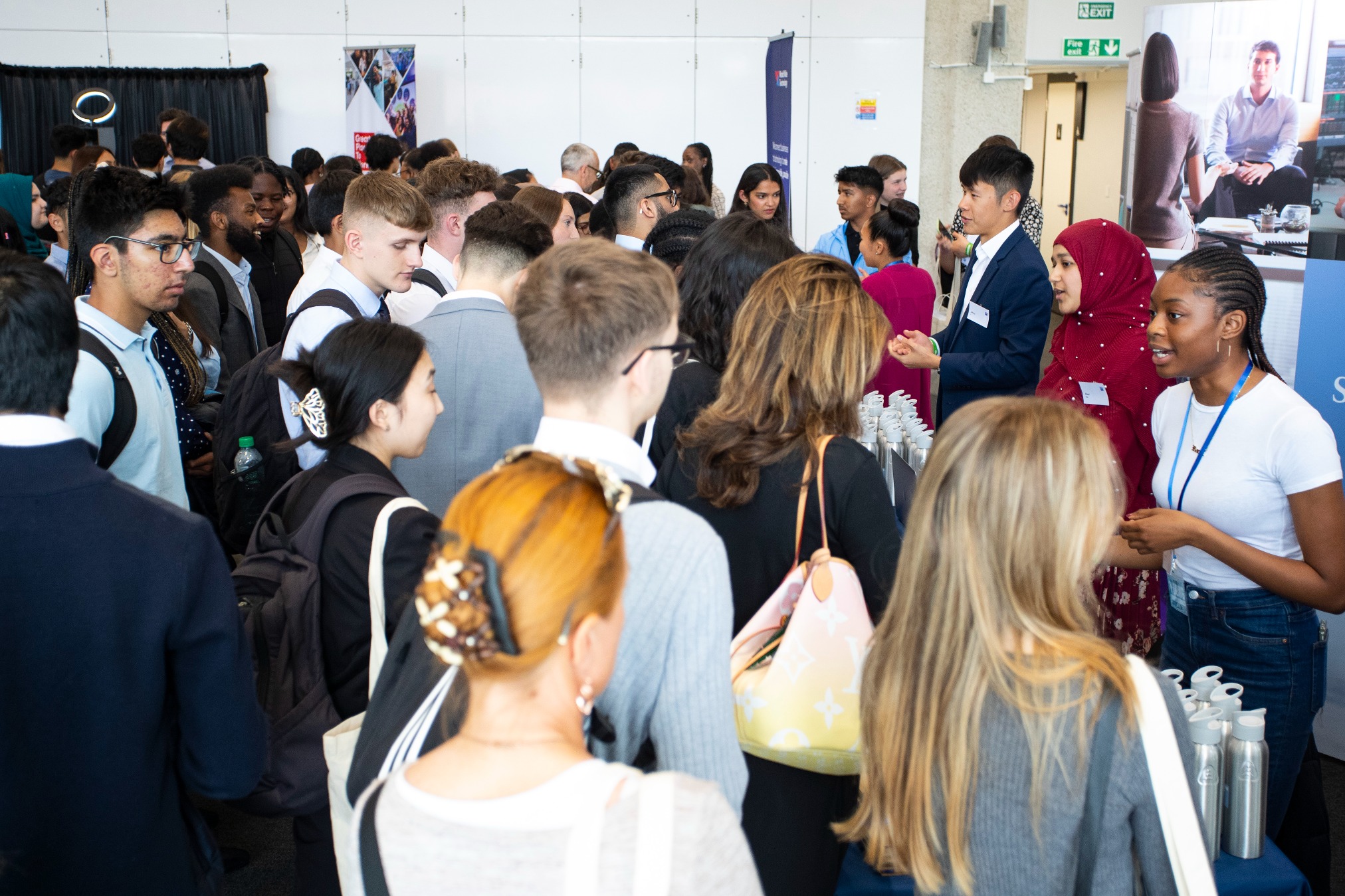 My Young Professionals London Conference 2022 Experience: The Inside Scoop
Publish Date: 2022-08-02
Hey! I'm Aaminah, and I'll be walking you through my recent Young Professionals Conference experience - as well as providing some top tips for you along the way. Let's get started!
TL;DR
Huge event, amazing venue, lots of people

Awesome presentations and panel discussions (spoiler: drones in accounting??)

Network and LinkedIn, network and LinkedIn (I could repeat this forever)

Stop reading this and go sign up for their next event!!!
Introducing the event
Recently, I asked a bunch of people: "what's the first thing that comes to your mind when you hear the word 'conference'?". Without hesitation, almost everyone immediately replied: 'BORING!'.
The Young Professionals London Conference 2022 was in no way 'boring'. Featuring over 20 global employers and a variety of presentations and panel discussions, it was a huge step up from the virtual Young Professionals experiences I've grown accustomed to since COVID hit. And it did not disappoint!
Upon arriving at the QEII Centre, I was stumped by how large it was, how many people there were...and most importantly, how many employers were being represented. A Young Professionals event is not a small thing! And for those of you who are regulars on their virtual experiences (I see you!) - prepare to be pleasantly surprised.
TOP TIP: Navigating such a large event
Some of you might be freaking out now and asking: 'well, how do I navigate an event with so many people?'. When I first signed up for the event, I had a look at the employers who would be there and made a quick list of the ones I wanted to speak to. Not only did this save me lots of time, but it also made the day go by really smoothly - so I highly recommend doing this for all events you attend (both virtual and in-person).
Networking
As I mentioned before, there were loads of other young people at the event. But there were also lots of companies there, each with their own stall and at least 5 representatives. This made it really easy to get a word in, swap LinkedIns and ask any questions I had. I was able to connect with a bunch of firms like Goldman Sachs, who told me about some really cool internships they've got coming up!
I highly recommend networking at any event, but more so at Young Professionals events. This is because Young Professionals has already formed connections with loads of big companies, making it very easy for you to connect with them. Just make sure you have a decent LinkedIn page set up so that you're able to keep in touch with the connections you make!
TOP TIPS: How to network effectively
Prepare questions beforehand to avoid going blank on the day. Make sure you're giving people your LinkedIn. Oh, and use body language too - a smile and eye contact go a long way. That's pretty much all there is to it!
Presentations
An excellent way to gain industry knowledge and learn about career opportunities is to listen to what employers are saying. Young Professionals made sure we got to experience this through a range of presentations and speeches:
Headlining the event was IT firm Version 1 - they emphasised that quite literally anyone (yes, even you) can get into programming. They also had some super cool VR experiences going on!
Craig Fenton - a managing director at Google - followed this with a presentation which shed light on AI, quantum mechanics and what Google is doing to fight against climate change.
And finally, PwC partner, Leah Piper spoke about her journey into the professional services space and how she overcame different struggles throughout her career.
Not only were these speeches and presentations very insightful, but the audience was also given a chance to chime in and ask their questions. There were some cool prizes to be won too!
Panel discussions
Now more than ever, it's incredibly important to be aware of developments in business and tech - these sectors are the key drivers of the 21st century as we know it. So I was really excited to hear that the event featured two panel discussions: The Future of Finance and Business Leaders in Tech.
The discussion around the future of finance was eye-opening, to say the least. Representatives from PwC, CIMA, Goldman Sachs and Mazars each gave their unique perspectives on how the world of finance is changing, how firms are adapting to this change, and how students and young people fit into all this. Some highlights include PwC explaining how drones are used in audit (super cool) and CIMA touching upon their upcoming report on the future of finance (a must-see when it's finally released).
The second panel discussion around business leaders in tech was equally insightful, with Rolls-Royce, BT and others shedding light on how they have coped with recent shifts like COVID, and what young people can do to keep up in their fast-moving world. Representatives of each firm also touched upon their individual career paths and experiences, making this quite an inspiring discussion.
TOP TIPS: What's next?
So you've watched a presentation or heard a panel discussion. Hopefully, you've made notes of important things that were mentioned. And now you're wondering, what's next? Go speak to the presenters, ask questions and build up some industry knowledge! Or, go home and do some more research. Then, get in touch via LinkedIn or at the next Young Professionals event. Ultimately, it depends on what you're trying to get out of the event: network, look at career opportunities, or something else.
Final thoughts
Let's wrap this up. By now, hopefully you have an understanding of what Young Professionals in-person experiences are like, along with some top tips for how to make the most of your time.
Young people: you and your future self won't regret signing up - I guarantee it. Parents: encourage your young people to take part - it'll make all the difference to their futures. Good luck!
About the author
An aspiring accountant, Aaminah has attended multiple Young Professionals work experiences and events which have proven invaluable in helping her to gain relevant skills and build a professional network. She now
has a place to study Accounting and Finance at university and looks forward to becoming Chartered soon after. Find her on LinkedIn at https://www.linkedin.com/in/aaminahbizzari/